Thank you for your interest in Sellacious..
Best B2B eCommerce and Marketplace software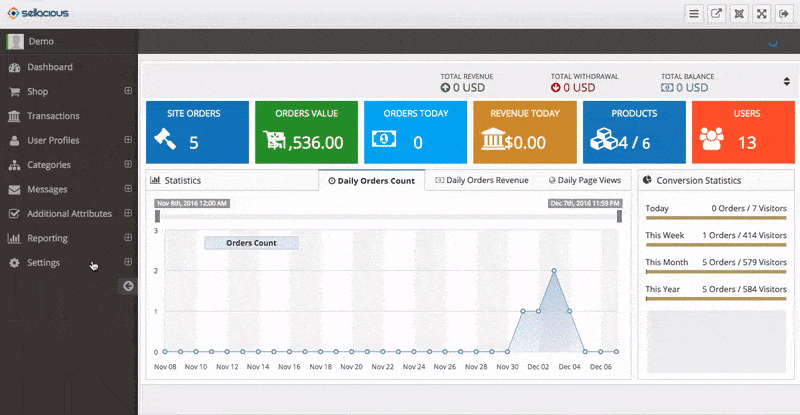 Sellacious 1.5.3
Release Date: March 21, 2018
Compatibility: Joomla v 3.8.x and above
PHP 5.4 onwards including PHP 7.x
New Features:
Compatibility: Joomla v3.7.x and above
PHP 5.4 onwards including PHP 7.x


Frontend:
Sellacious is now 90% multilingual ready. Start translating Sellacious in your own language.
Product Filter is now available as Module.
You can now set styling options for all special categories, Not just the default ones.
Backend:
Sellacious has got its own menu manager. Now, Customise Sellacious menu in clicks.
SEF URLs: Choose your own SEO friendly URLs now and create them via Joomla menu manager.
Duplicate existing Products in a click.
View products in frontend in a single click.
Fixes and Improvements:
Fully compatible and works perfectly with the new version of Joomla! 3.8.
Improved email templates with 'To', 'CC', 'BCC' etc.
Sellacious asks you to setup basic options on startup. Setup Sellacious according to your needs more easily.
Improved Product caching for faster user experience.
More control over form fields to display during front-end user registration.
For Premium Users:
Blazing fast Product Import from CSV files using Import Plugin.
Now, Import Users, Orders and Export them with ease.
Support
Sellacious offers awesome support and stays connected to its members in as many ways as possible. You can post your query or any issue on our support forum and we make sure for a quick response.
Rate us on JED
If you loved us, Share the love with other Joomlers. Review Sellacious directly on Joomla! We hope you have all the good things to say about us.
Upgrade
Sellacious comes with different upgrade options which enable our users to enjoy bulk utilities, ad-free interface and direct live support via Phone, Skype or WhatsApp 24*7.