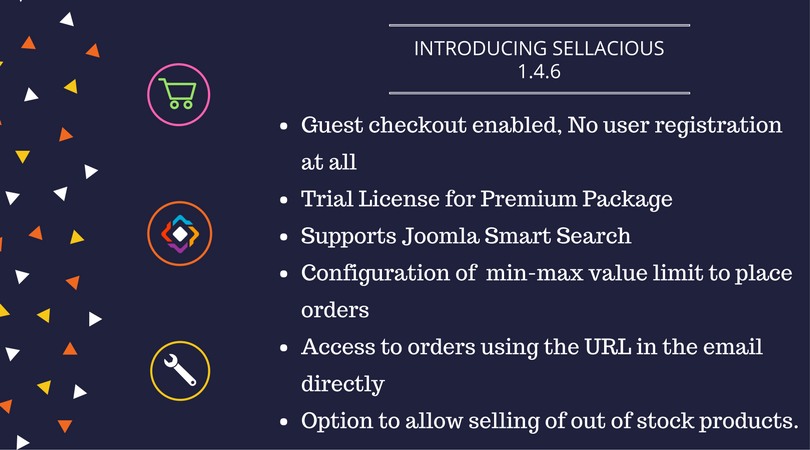 Releasing the new version of Sellacious with many new features added to add to the highest achievable performance of the software as well as your store. Describing and understanding the changes coming with the new version, Below are the highlights of v1.4.6.
Compatibility: Joomla v 3.4.x and above
PHP 5.3.1 onwards including PHP 7.x
Latest and Related Products Module:
Initially, The Related Products and Latest Products were referred as independent modules. Now the latest products and related products modules comes along with the Sellacious package giving you more flexibility to showcase your products in an enhanced way.
Trial License:
Considering the need of researching your way to the best eCommerce platform for your online store, Sellacious now offers Premium Trial license to unlock and try the hidden features for FREE for a limited time.

Smart Search:
With the release of new version, Sellacious will now support Joomla smart search integrated with Sellacious to allow searching of products throughout the store using content indexing.
Guest Checkout:
Much awaited Guest Checkout is introduced with the upcoming version. This is the guest checkout you are looking for in TRUE sense. No user registration takes place at all for the user opting for guest checkout, not even a hidden one. Buyers can access their orders directly through the URL mailed to them.

E-mail URL access:
We not only focus on the needs of our users but the comfort of your buyers too. With the distinctions in v1.4.6, Customers can access their order using the URL in their email directly, without needing to login to your shop every time.
Zero Priced Products and Cart:
Checkout for Zero priced products or Cart with Zero value enabled with Sellacious. You have the option to choose whether you want to allow checkout with ZERO priced items or a cart with ZERO order value controlling your store according to your requirements and nature of your products.
Out of Stock Products Sale:
You can now choose to extend your sale of products and accept orders even when they are out of stock. Now choose whether to allow selling of out of stock products and set limit of product sale.
Minimum Order Value:
Is there a minimum order value rule you follow? Sellacious now lets you configure a minimum order value according to which you can control the placing of orders, A limit can be set for buyers that must be fulfilled to be able to place an order.
Min-Max Quantity:
Give your Sellers the control of their products, Each seller can now configure a minimum quantity and/or maximum quantity that can be ordered for each product individually so as to maintain their orders hassle free.
Live Exchange Rates:
Forex now automatically attempts to fetch live rates if no exchange rates are available in your site database for a requested currency pair. This rate is then stored in the database for further use easing and optimizing the whole process.
Changes in Payment Methods:
Sellacious 1.4.6 allows you to choose whether you want a payment method, each considered specifically, to be available for guest checkout or not.Say, You don't want COD to be permitted in case of Guest Checkout, You can just simply do it with Sellacious.

Email templates:
E-mail Templates for various email triggers in Sellacious now shipped with the release package. Giving you the benefit to notify your sellers, buyers or subscribers about any information to be conversed.