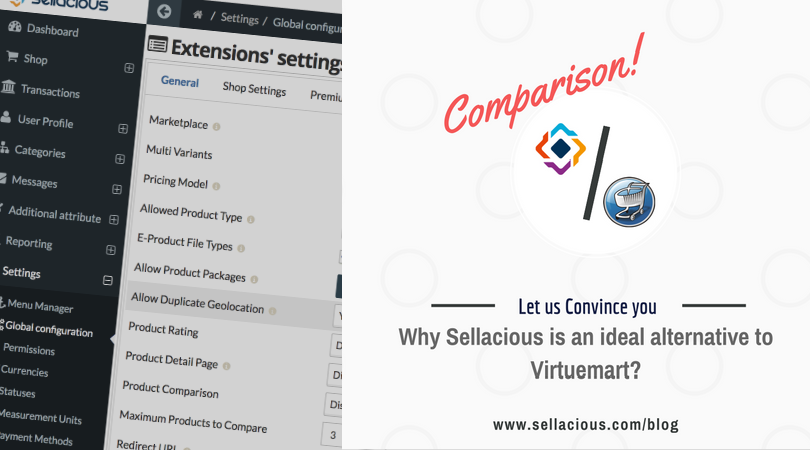 While deciding about expanding the business online, the first question that needs to be answered is about the Software to be used, that is reliable, complete and easy to create your online store.
Where we have plenty of options available, Virtuemart is one of them that is available with Joomla.
It is very important to select a user-friendly platform which also gives you the flexibility and scalability to expand and utilize the software to suit and cater your online store perfectly.
Coming back to Virtuemart, It is definitely a reliable option but we give you 5 reason why Sellacious is the right choice, and is a potential Virtuemart alternative.


Complete and Integrated:
One thing that we bet about Sellacious is its completeness and the Integrated Solution it introduces to the market. Where there is a need of thousands of additional plugins to make Virtuemart ideal for the kind of Online store you are aiming for, Sellacious does it all by itself having the USP of almost all the features built-in. This makes Sellacious a perfect Virtuemart alternative.
Scalable:
Sellacious offers plenty of useful resources for an enterprise level store, And also is a complete model for Beginners as it comes with all the configuration options built-in the system. At the same time, if we talk about Virtuemart, it will be safe to quote that it is not much suitable for the users looking for B2B stores due to the lack of available features and configurations, And you require a lot of research for additional plugins to be used.
Performance:
Sellacious is built on the latest version of Joomla, and is revised time by time following the latest standards in the industry to help it run smoothly and make it secure and optimize the whole system, In comparison to virtuemart which is sparsely updated making the whole software not up to the mark. To make a practical eCommerce store, Sellacious offers you all the features built-in the form of configurations in the original system. Unlike other platforms which needs additional plugins for the same features, generally developed by the third-parties not understanding the base platform and are prone to use less effective code practices, hence, making the whole solution slow and poorly performed.
Cost Effective:
No hidden and additional cost at all! Sellacious is free to download and only charges you for the premium support, You get everything built in and pays no extra charges for any plugin catering the feature you need for your store. Where, Virtuemart is also free to download but requires additional charged plugins integration to make it a whole system itself and you end up paying more than the seem cost.
Time Efficient:
As Virtuemart is a platform which needs additional plugins to extend it to the desired capability, it takes a lot of efforts and time to get the whole software for your store in place. Whereas, We claim to have provided Sellacious as a complete eCommerce suit for Online stores and Marketplace saving you a lot of extra time and labor. Thus, giving you all the reason to believe that Sellacious is an absolute and even more preferable Virtuemart alternative.


Putting the above points in place to conclude that Sellacious is an absolute alternative to Virtuemart. Switching your preferences to Sellacious is the practical decision your Store needs.
While you get an awesome support and a helpful community to be a part of, We try to answer all your question pre-handedly offering documentation for our users.
Sellacious is extremely user friendly, reliable and a modern system developed keeping the requirements of an Online store in watch. With a vision and mission to cast a platform which requires our users to do no much work and start their online store under 10 minutes.
We try to give you all the reason to shift from your present eCommerce platform today and love Sellacious as much as we do and make it an ideal alternative to present solutions available in the market.

Learn more about the features that Sellacious has to offer here.
Also Read - Why is Sellacious the best eCommerce for you?