Sellacious cares about your sales and the techniques, Offering coupons and discount to your customers without the worry of additional management efforts. Multiple features of sellacious offering you ease and comfort under the same.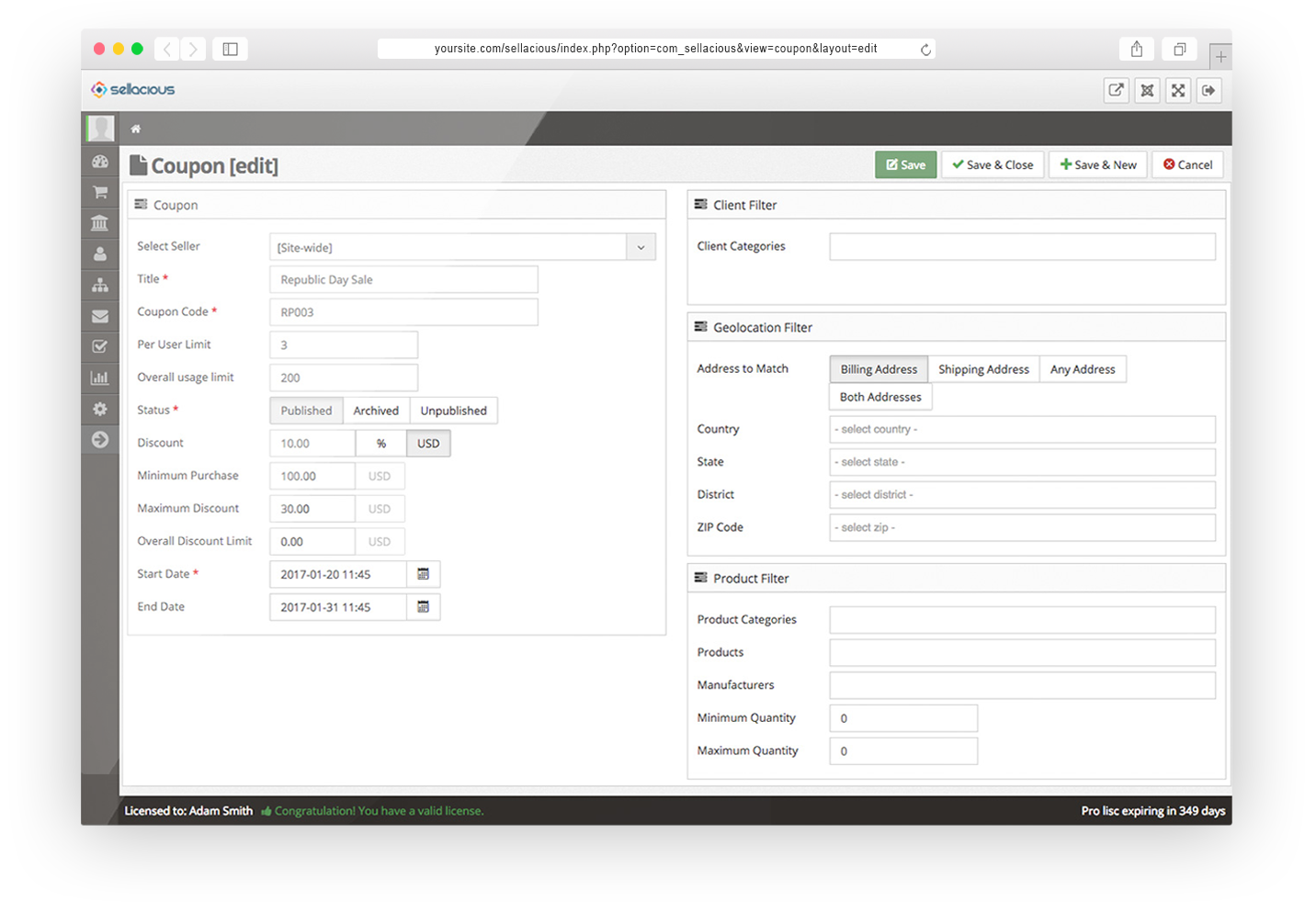 Coupon limit
You can set an overall usage limit to the particular coupon with sellacious. Set minimum cart value or maximum discount offered by the coupon. Talking about the same, Say offering a coupon like 50% off on minimum 250 cart value up to Rs. 200.
Shop or seller based
Sellacious brings various of options you can choose from in behaviour of your store, We understand the diversity in buyers and yet, we make sure you have the choice to pick a coupon applied site wide or a for a particular seller/buyer.
Time period
Decide the time period of the coupon to be followed for its validity, Under this feature you can select for how long the coupon has to be rolled out selecting a date range, say for Christmas, Create a CHRISTMAS coupon that can be applied only for 24th-28th dec.
Deduction type
Manage your discounts and deduction of the same as per your inclination, Using the feature of deduction type under coupons, you can select to offer your buyers a flat discount or a percentage discount, in compliance of your store.
Filters
Apply a variety of filters on the coupons to narrow it down.
Client
Create coupon for specific set of user based on their roles.
Geolocation
Match Billing or Delivery address and target Country, state, city or even zip code with coupon options.
Quantity
Quantity based coupons. Minimum or max quantity allowed can be entered.
Category
Different coupons for different categories.
1500+ people trust Sellacious to run their online business
Switch to Sellacious today and rejuvenate your eCommerce experience