Pricing
Written by: Indresh Maurya
Date: 24-10-2020
Compatibility: Sellacious v2.0.0-Beta1+
This section allows you to set pricing type which you want to have for you products in your shop.
Show Price in Pages: Allows you to show hide proces from different pages and views.
Allowed Price Types: You can enable disable pricing type from here. This config is also available in category and in product level. which will override this config if enabled.
Product Price Display: Choose wheather to show price only or crossed out list also.
Dynamic Prices Display: In case dynamic price is selected in a product this config allows us in what manner we want to show dynamic price table.
Show Quantity range for prices: It will show quantity range for prices

2.Show minimum quantity only for prices: shows only minimum range of prices

Show maximum quantity only for prices: shows only maxinimum range of prices

Sort Dynamic Prices by Minimum Quantity First: This option sorts Dynamic Prices by Minimum Quantity First then display in table.
Hide Default/Fallback Price: This hides the default price.

Use MOQ from Dynamic Prices: This config when enabled minimum order quantity will be taken from dynamic price range
for example let X Minimum Purchase Quantity and Y Least Minimum Quantity from Dynamic Prices.
When enabled:
If X is less than the Y, then Y will be used as MOQ (Minimum Order Quantity). Otherwise, MOQ will be X.
When disabled:
X will be always be used as MOQ.
Bulk Pricing Display Label: In case dynamic price is selected in a product this config allows us in what manner we want to show dynamic price table. If setting field is left blank then previous default text "Bulk Discounts" from language file will be displayed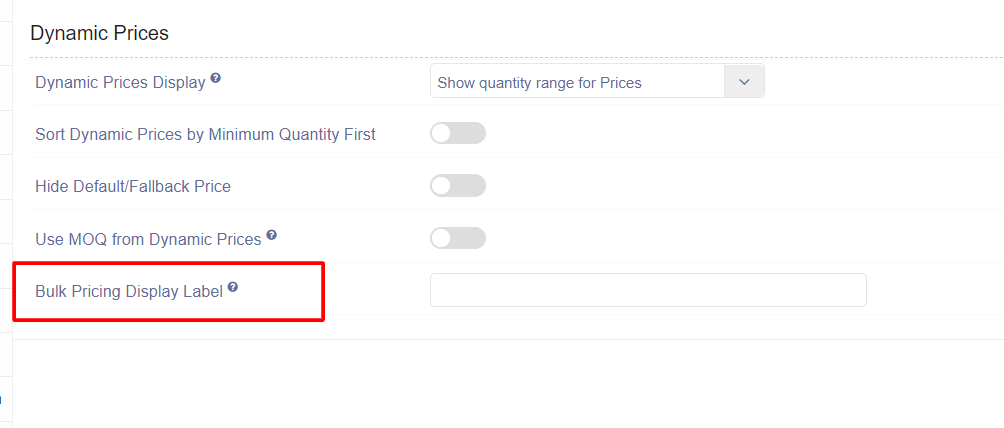 In frontend