Sellacious Finder
Written by: Indresh Maurya
Date: 29-10-2020
Compatibility: Sellacious v2.0.0-Beta1+
Sellacious finder is a native search module for searching products, categories and sellers.
Before we go ahead in module configuration we need to check the elements which will be used for indexing of search keywords. To enable these go to Seetings->Global Configurations->General in sellacious backend and look for these fields
Search Partial Word: You can choose whether search can match with whole or partial word. If you select whole word, user can search product with whole word only. And if you select whole and partial word both, user can search products with partial word too.


After this done go to Joomla backend->manage->modules->New->sellacious finder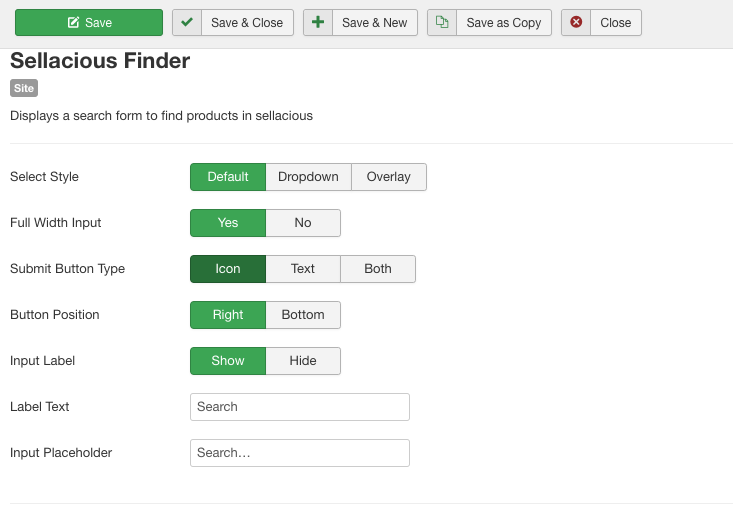 Select Style: Selects search style from here.
Full Width Input: Enable full width input for search.
Submit Button Type: Select submit button type
Button Position: Select submit button position
Input Label: Show/Hide input label
Label Text: Label Text for label
Input Placeholder: Give Placeholder text for search box.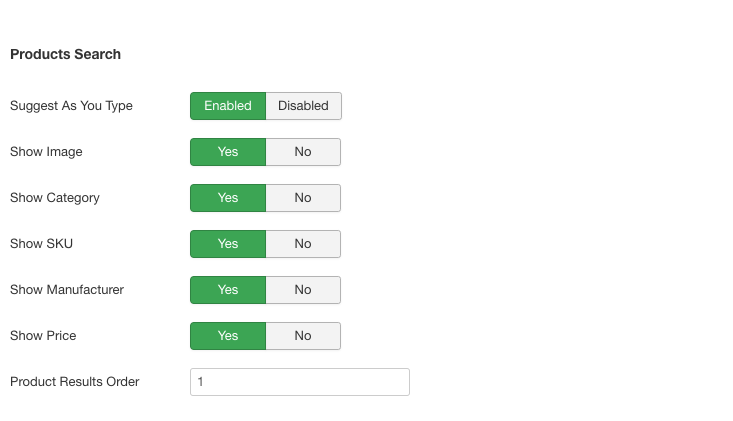 Suggest As You Type: Enable suggest as you type
Show Image: Show image of product in ajax result
Show Category: Show category of product in ajax result
Show SKU: Show product sku in ajax result
Show Manufacturer: Show Manufacturer in ajax result
Show Price: Show Price in ajax result
Product Results Order: Give the order of project result, 1 for display product on top.



Suggest As You Type: Suggest category name as you type
Result Redirect: Choose wheather to redirect on category page or category products page
Show Category Image: Show category image in ajax result
Category Results Order: Choose order of categotry in ajax result



Suggest As You Type: Suggest seller name as you type
Result Redirect: Choose wheather to redirect on store page or store products page
Show Seller Image: Show seller image in ajax result
Seller Results Order: Choose order of seller in ajax result